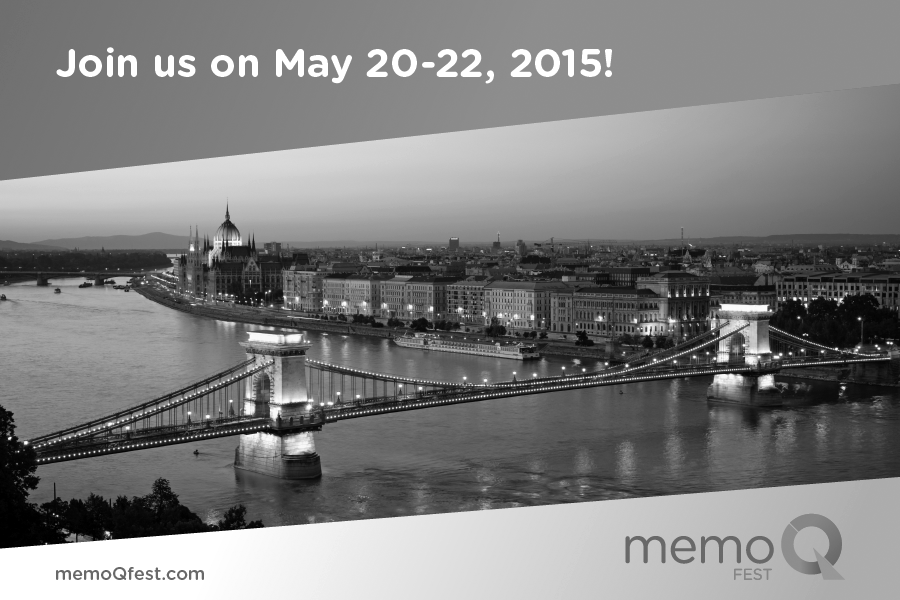 Reading Time
3
min.
The guys from Kilgray say that:
This event will be much more than a translation technology conference, with great networking opportunities, presentations from key industry thought leaders, and a lot of fun.
You hear this a lot. You hear about events promising that they're more than just a conference. That they offer that little extra to make you join year after year. Well, memoQfest is not an event, it's a fest. A fest that offers everything that you'd expect from an event, plus all the fun that the word "fest" might imply. This event is for professionals in the industry with a younger spirit. Just as the company that hosts it.
The first time I heard about memoQ, I was at a ELIAevent (and a rather boring one I might add). We were on a coffee break and suddenly someone entered the room and said that the guy from memoQ was there. Everybody got up and started rushing out…this is usually a sign that something important is about to happen. And it did.
A tall, skinny, young guy with a laptop was about to show us memoQ. An alternative to Trados. I remember looking at the software and thinking "This is one ugly software". The UI was really basic, colors kind of awful BUT…the more I learnt about it, the more I realized that there was something more than met the eye. Again, I was right. In just a few years, memoQ managed to grow into the most important competitor for SDL Trados. I heard so many translators switching to memoQ, and, more importantly, companies switching to memoQ.
Back to the event now. memoQfest evolved across the years. There's also one held in the States now. But the classic is the memoQfest International, and it's held in Budapest (a truly magical city). This year's event is the 6th one (my 5th, I failed to get on board this tradition from the very beginning). For more information on the event please check their website: http://memoqfest.com/.
Yes, it's a translation technology conference. The event is built around memoQ, a great piece of technology. You get to see how other people handle complex projects in memoQ, how memoQ can help you work more efficiently, basically, how memoQ is the better choice for you. There are also classes with a more general note. Machine translation, translation standards, just about anything you need to know to make it in this industry. Presentations from great people, thought leaders and translation industry professionals which will inspire you.
As an extra, there's one day dedicated to memoQ training. This is one day before the actual event. There are actually 2 Master Classes. Full days dedicated to learning more about memoQ. There's a master class for project managers and one for translators. With these classes you learn tips and tricks about memoQ, how to make better use of the tool. Trainings that offer the possibility of discovering new ideas, new ways of doing things. Answers to problems you might be dealing with and you didn't know had an easy solution.
As for the networking opportunities…you get them all day long, and all night long 🙂 After classes there are social events every evening. Kilgray will go out of their way to surprise you, to make your evening one to remember. I'm just going to tell you this: boat rides on the Danube, fire jugglers, dancers at great heights… And, if you manage to fight the sleep off, the night will be even better.
Having attended the event for 4 years now (this will be my 5th), I got to know some people really well, there are connections being made. There are people joining in each year. And it's really nice to meet them every single time to catch up, face to face. Creating bonds on a personal level leads to a more powerful professional collaboration. You know the company you're working with through the person you meet here. You're confident that your projects are handled with professionalism and great care (even though you might see a wilder side of that person's personality: dancing bare foot on the dance floor, performing live, jumping around in groups on rock songs, together with Kilgray's executives). It's all part of the fest. Of the openness Kilgray shows towards their customers and of the open hearted response they get in return.
Well, I talked about the translation technology part, I talked about networking events, great presentations from industry leaders…I guess it's time to talk about the fun part. But I think you got the point about this one, right?
If you're trying to convince your boss to send you to this event, you might leave out the details related to the fun part. They might get the wrong impression. If you are the boss and you're thinking of joining, remember this: the event is all about the people, not about new contracts, stealing customers, making money. It's about making friends, about being yourself, not selling yourself.
And trust me…if you let go a little and concentrate on the personal interactions, the professional connections will follow as well.